Welcome to the show results in the Great Dane breed from around the country as they come in.
It is a fun and interesting way to keep a record of the results at all the shows. Each show through out the year will have their own easy to find drop down menu under the show results page.
We hope it is easy to understand and incredibly helpful to keep people up to date with what's going on in the showing world.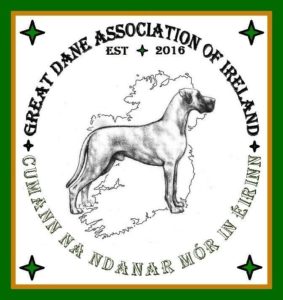 Bullbreeds All Breed CH Show 2016 Results
Breed Judge: Mrs. J. Collie
| | |
| --- | --- |
| Award | Dog |
| Green Star Dog | KINNEGANS A HARD DAYS NIGHT (AI) (Mrs S Duffy) |
| Res Green Star Dog | KINNEGANS DELILAH'S HOPES AND DREAMS (Mrs S Duffy) |
| Green Star Bitch | MY LADY OF AONTROIM (GB) (C.J.W.16.) (JR.CH.16.) (Miss M.E. Little) |
| Res Green Star Bitch | YANDAMAR BYDMAR TATJANA (Mr K & Mrs LR, Ms M U Barrett & Nolan) |
| Best Of Breed | KINNEGANS A HARD DAYS NIGHT (AI) (Mrs S Duffy) |
| Reserve Best Of Breed | MY LADY OF AONTROIM (GB) (C.J.W.16.) (JR.CH.16.) (Miss M.E. Little) |
| | | |
| --- | --- | --- |
| Class | Placing | Dog |
| Junior Dog | 1 | KINNEGANS DELILAH'S HOPES AND DREAMS (Mrs S Duffy) |
| Junior Dog | 2 | DEVENISH STEP RIGHT UP (Ms W Dunn) |
| Junior Dog | 3 | ÁLAINNDANES KING OF KINGS AT KENAINE (Mr K & Mrs L R Barrett) |
| Open Dog | 1 | KINNEGANS A HARD DAYS NIGHT (AI) (Mrs S Duffy) |
| Open Dog | 2 | STORMDANCE DOBRYNIA NIKITICH (Ms Lorna McNamara) |
| Baby Puppy Bitch | 1 | KINNEGANS WAVES AND ECHOES (Mrs S Duffy) |
| Junior Bitch | 1 | DEVENISH KEEP THE FAITH (Ms W Dunn) |
| Junior Bitch | 2 | MADRA MAGIC CHARLIES GIRL (Mr. & Mrs R.G. O' Sullivan) |
| Intermediate Bitch | 1 | MY LADY OF AONTROIM (GB) (C.J.W.16.) (JR.CH.16.) (Miss M.E. Little) |
| Open Bitch | 1 | YANDAMAR BYDMAR TATJANA (Mr K & Mrs LR, Ms M U Barrett & Nolan) |
| Open Bitch | 2 | SANTANNA CRISTAL BRUT (Mrs Fennelly Mcgrath) |
| Open Bitch | 3 | PRINCESS SOPHIA SOPHIA (Mr. & Mrs R.G. O' Sullivan) |
Cloghran All Breed Championship show 1/10/2016
| | |
| --- | --- |
| | Breed Judge: Mrs P. Dempsey |
| | |
| --- | --- |
| Award | Dog |
| Green Star Dog | HIGHESTEEM BRUCE AT XANDERO (IMP NOR) (Mr & Mrs M A Curran) |
| Res Green Star Dog | DEVENISH STEP RIGHT UP (Ms W Dunn) |
| Green Star Bitch | CH ÁLAINNDANES SWEET CHILDS COMMAND DECISION ( JUN CH, CW 16 ) (Ms J Doyle) |
| Res Green Star Bitch | SANTANNA CRISTAL BRUT (Mrs Fennelly Mcgrath) |
| Best Of Breed | HIGHESTEEM BRUCE AT XANDERO (IMP NOR) (Mr & Mrs M A Curran) |
| Reserve Best Of Breed | CH ÁLAINNDANES SWEET CHILDS COMMAND DECISION ( JUN CH, CW 16 ) (Ms J Doyle) |
| | | |
| --- | --- | --- |
| Class | Placing | Dog |
| Junior Dog | 1 | DEVENISH STEP RIGHT UP (Ms W Dunn) |
| Junior Dog | 1 | ÁLAINNDANES KING OF KINGS AT KENAINE (Mr K & Mrs L R Barrett) |
| Junior Dog | 3 | KINNEGANS DELILAH'S HOPES AND DREAMS (Mrs S Duffy) |
| Open Dog | 1 | HIGHESTEEM BRUCE AT XANDERO (IMP NOR) (Mr & Mrs M A Curran) |
| Open Dog | 2 | ÁLAINNDANES MIRACLE MAN (JUN CH, EUDDC JW 15, CW 16 ) (Ms J Doyle) |
| Open Dog | 3 | KINNEGANS A HARD DAYS NIGHT (AI) (Mrs S Duffy) |
| Baby Puppy Bitch | 1 | KINNEGANS WHO'S THAT EYE CANDY (Ms M Connolly) |
| Puppy Bitch | 1 | ÀLAINNDANES BELLE OF MY HEART (Ms J Doyle) |
| Junior Bitch | 1 | BALLYFRAWLEY ALL THIS AND HEAVEN TOO (Mrs Rose Dooley) |
| Junior Bitch | 2 | DEVENISH KEEP THE FAITH (Ms W Dunn) |
| Junior Bitch | 3 | BALLYFRAWLEY OVER THE LOVE (Mrs Rose Dooley) |
| Junior Bitch | 4 | KINNEGANS DELILAH'S SPARKLING STAR (Mrs S Duffy) |
| Intermediate Bitch | 1 | MY LADY OF AONTROIM (GB) (C.J.W.16.) (JR.CH.16.) (Miss M.E. Little) |
| Open Bitch | 1 | SANTANNA CRISTAL BRUT (Mrs Fennelly Mcgrath) |
| Champion Bitch | 1 | CH ÁLAINNDANES SWEET CHILDS COMMAND DECISION ( JUN CH, CW 16 ) (Ms J Doyle) |
| Champion Bitch | 2 | IR CH,UK CH SANTANNA MOET AND CHANDON CJW15 (Miss Karen Cafferty Rice) |
IKC Day 1 Results 12th Nov 2016
Breed Judge: Mr R. Oliveira
| | |
| --- | --- |
| Award | Dog |
| Green Star Dog | HIGHESTEEM BRUCE AT XANDERO (IMP NOR) (Mr & Mrs M A Curran) |
| Green Star Dog/Bitch | HIGHESTEEM BRUCE AT XANDERO (IMP NOR) (Mr & Mrs M A Curran) |
| Res Green Star | CH SMALLTALL'S FLY ME TO THE MOON WITH LEEVINDANE CJW'15, LUX JCH, IRL JUN CH (Mr D & Mrs H Nevin & Lund) |
| Res Green Star Dog | CH SMALLTALL'S FLY ME TO THE MOON WITH LEEVINDANE CJW'15, LUX JCH, IRL JUN CH (Mr D & Mrs H Nevin & Lund) |
| CACIB | HIGHESTEEM BRUCE AT XANDERO (IMP NOR) (Mr & Mrs M A Curran) |
| CACIB Dog | HIGHESTEEM BRUCE AT XANDERO (IMP NOR) (Mr & Mrs M A Curran) |
| Res CACIB | CH SMALLTALL'S FLY ME TO THE MOON WITH LEEVINDANE CJW'15, LUX JCH, IRL JUN CH (Mr D & Mrs H Nevin & Lund) |
| Res CACIB Dog | CH SMALLTALL'S FLY ME TO THE MOON WITH LEEVINDANE CJW'15, LUX JCH, IRL JUN CH (Mr D & Mrs H Nevin & Lund) |
| Green Star Bitch | CH ÁLAINNDANES SWEET CHILDS COMMAND DECISION ( JUN CH, CW 16 ) (Ms J Doyle) |
| CACIB Bitch | CH ÁLAINNDANES SWEET CHILDS COMMAND DECISION ( JUN CH, CW 16 ) (Ms J Doyle) |
| Res Green Star Bitch | KINNEGANS DELILAH'S SPARKLING STAR (Mrs S Duffy) |
| Res CACIB Bitch | KINNEGANS DELILAH'S SPARKLING STAR (Mrs S Duffy) |
| Best Of Breed | HIGHESTEEM BRUCE AT XANDERO (IMP NOR) (Mr & Mrs M A Curran) |
| Reserve Best Of Breed | CH ÁLAINNDANES SWEET CHILDS COMMAND DECISION ( JUN CH, CW 16 ) (Ms J Doyle) |
| | | |
| --- | --- | --- |
| Class | Placing | Dog |
| Baby Puppy Dog | 1 | KINNEGANS TWISTED FIRE STARTER (Mr G Mcgowan) |
| Junior Dog | 1 | ÁLAINNDANES KING OF KINGS AT KENAINE (Mr K & Mrs L R Barrett) |
| Intermediate Dog | 1 | KINNEGANS DELILAH'S HOPES AND DREAMS (Mrs S Duffy) |
| Open Dog | 1 | HIGHESTEEM BRUCE AT XANDERO (IMP NOR) (Mr & Mrs M A Curran) |
| Open Dog | 2 | KINNEGANS A HARD DAYS NIGHT (AI) (Mrs S Duffy) |
| Champion Dog | 1 | CH SMALLTALL'S FLY ME TO THE MOON WITH LEEVINDANE CJW'15, LUX JCH, IRL JUN CH (Mr D & Mrs H Nevin & Lund) |
| Intermediate Bitch | 1 | KINNEGANS DELILAH'S SPARKLING STAR (Mrs S Duffy) |
| Champion Bitch | 1 | CH ÁLAINNDANES SWEET CHILDS COMMAND DECISION ( JUN CH, CW 16 ) (Ms J Doyle) |
Breed Judge: Mr R. Oliveira
| | |
| --- | --- |
| Award | Dog |
| Green Star Dog | CLANSMAN VON TIR NA NOGH OF RANALDANE (DEU GB) (Mrs J MacDonald) |
| Res Green Star Dog | STORMDANCE DOBRYNIA NIKITICH (Ms Lorna McNamara) |
| CACIB Dog | CLANSMAN VON TIR NA NOGH OF RANALDANE (DEU GB) (Mrs J MacDonald) |
| Res CACIB Dog | STORMDANCE DOBRYNIA NIKITICH (Ms Lorna McNamara) |
| Green Star Bitch | RAVENDANE WIZADORA (Ms T Somers) |
| CACIB Bitch | RAVENDANE WIZADORA (Ms T Somers) |
| Res Green Star Bitch | RAVENDANE FROZEN WITH TAMZDANE JW NJK CW16 (Miss T & Mrs L Pocock) |
| Res CACIB Bitch | RAVENDANE FROZEN WITH TAMZDANE JW NJK CW16 (Miss T & Mrs L Pocock) |
| Best Of Breed | RAVENDANE WIZADORA (Ms T Somers) |
| Reserve Best Of Breed | CLANSMAN VON TIR NA NOGH OF RANALDANE (DEU GB) (Mrs J MacDonald) |
| Best Puppy | MADRA MAGIC PERFECTION (Anne-Marie Mc Causland) |
| | | |
| --- | --- | --- |
| Class | Placing | Dog |
| Baby Puppy Dog | 1 | PINZA'S BLACK SOLOIST MARGARET KEARNEY (Mrs. M Kearney) |
| Junior Dog | 1 | TAMZDANE THAT'S MY JAM (Miss T & Mrs L Pocock) |
| Open Dog | 1 | CLANSMAN VON TIR NA NOGH OF RANALDANE (DEU GB) (Mrs J MacDonald) |
| Open Dog | 2 | STORMDANCE DOBRYNIA NIKITICH (Ms Lorna McNamara) |
| Champion Dog | 1 | NL, DK CH LEEVINDANE LEAD ME ON MR COLE (JUN CH) (Mrs M & Mr D Leeper Nevin) |
| Puppy Bitch (Int) | 1 | MADRA MAGIC PERFECTION (Anne-Marie Mc Causland) |
| Junior Bitch | 1 | TAMZDANE BOHEMIAN RASPBERY AT RAVENDANE (Miss J R Walton) |
| Junior Bitch | 2 | DEVENISH KEEP THE FAITH (Ms W Dunn) |
| Junior Bitch | 3 | DANETASTIC HOLLY (Mrs B Brown) |
| Junior Bitch | 4 | DANETASTIC MISTLETOE (Mrs J McBride) |
| Open Bitch | 1 | RAVENDANE WIZADORA (Ms T Somers) |
| Open Bitch | 2 | RAVENDANE FROZEN WITH TAMZDANE JW NJK CW16 (Miss T & Mrs L Pocock) |
| Open Bitch | 3 | TAMZDANE HOLY CANNOLI IT'S SPRINGDANE JUN CH (& Woods Mr K Collins Mrs S & Miss C) |
| Open Bitch | 4 | YANDAMAR FLYGHTY MAGICAL (Dr. Neil & Miss Margaret & John & Mary Walsh O'Sullivan, Walsh) |
Breed Judge: Mr R. Oliveira
| | |
| --- | --- |
| Award | Dog |
| Green Star Dog | LEEVINDANE IRISH HARVEY BLUE WALLBANGER (Mrs M & Mr D Leeper Nevin) |
| CACIB Dog | LEEVINDANE IRISH HARVEY BLUE WALLBANGER (Mrs M & Mr D Leeper Nevin) |
| Green Star Bitch | MY LADY OF AONTROIM (GB) (C.J.W.16.) (IR.JR.CH.16.) (Miss M.E. Little) |
| CACIB Bitch | MY LADY OF AONTROIM (GB) (C.J.W.16.) (IR.JR.CH.16.) (Miss M.E. Little) |
| Best Of Breed | LEEVINDANE IRISH HARVEY BLUE WALLBANGER (Mrs M & Mr D Leeper Nevin) |
| Reserve Best Of Breed | MY LADY OF AONTROIM (GB) (C.J.W.16.) (IR.JR.CH.16.) (Miss M.E. Little) |
| | | |
| --- | --- | --- |
| Class | Placing | Dog |
| Puppy Dog (Int) | 1 | RAVENDANE ROCK OR BUST (Miss J R Walton) |
| Intermediate Dog | 1 | LEEVINDANE IRISH HARVEY BLUE WALLBANGER (Mrs M & Mr D Leeper Nevin) |
| Intermediate Bitch | 1 | MY LADY OF AONTROIM (GB) (C.J.W.16.) (IR.JR.CH.16.) (Miss M.E. Little) |
IKC RESULTS DAY 2 13 Nov 2016
Breed Judge: Mr. Vincent O'Brien
| | |
| --- | --- |
| Award | Dog |
| Green Star Dog | HIGHESTEEM BRUCE AT XANDERO (IMP NOR) (Mr & Mrs M A Curran) |
| Green Star Dog/Bitch | HIGHESTEEM BRUCE AT XANDERO (IMP NOR) (Mr & Mrs M A Curran) |
| Res Green Star | CH ÁLAINNDANES MIRACLE MAN (JUN CH, EUDDC JW 15, CW 16 ) (Ms J Doyle) |
| Res Green Star Dog | CH SMALLTALL'S FLY ME TO THE MOON WITH LEEVINDANE CJW'15, LUX JCH, IRL JUN CH (Mr D & Mrs H Nevin & Lund) |
| CACIB | KINNEGANS DELILAH'S HOPES AND DREAMS (Mrs S Duffy) |
| CACIB Dog | HIGHESTEEM BRUCE AT XANDERO (IMP NOR) (Mr & Mrs M A Curran) |
| Res CACIB Dog | CH SMALLTALL'S FLY ME TO THE MOON WITH LEEVINDANE CJW'15, LUX JCH, IRL JUN CH (Mr D & Mrs H Nevin & Lund) |
| Green Star Bitch | SANTANNA CRISTAL BRUT (Mrs Fennelly Mcgrath) |
| CACIB Bitch | SANTANNA CRISTAL BRUT (Mrs Fennelly Mcgrath) |
| Res Green Star Bitch | CH ÁLAINNDANES SWEET CHILDS COMMAND DECISION ( JUN CH, CW 16 ) (Ms J Doyle) |
| Res CACIB Bitch | CH ÁLAINNDANES SWEET CHILDS COMMAND DECISION ( JUN CH, CW 16 ) (Ms J Doyle) |
| Best Of Breed | HIGHESTEEM BRUCE AT XANDERO (IMP NOR) (Mr & Mrs M A Curran) |
| Reserve Best Of Breed | SANTANNA CRISTAL BRUT (Mrs Fennelly Mcgrath) |
| | | |
| --- | --- | --- |
| Class | Placing | Dog |
| Baby Puppy Dog | 1 | KINNEGANS MUSCLE MAN OF VENICE BEACH KOBI (Miss RL Lawlor) |
| Baby Puppy Dog | 2 | KINNEGANS TWISTED FIRE STARTER (Mr G Mcgowan) |
| Junior Dog | 1 | ÁLAINNDANES KING OF KINGS AT KENAINE (Mr K & Mrs L R Barrett) |
| Intermediate Dog | 1 | KINNEGANS DELILAH'S HOPES AND DREAMS (Mrs S Duffy) |
| Open Dog | 1 | HIGHESTEEM BRUCE AT XANDERO (IMP NOR) (Mr & Mrs M A Curran) |
| Champion Dog | 1 | CH SMALLTALL'S FLY ME TO THE MOON WITH LEEVINDANE CJW'15, LUX JCH, IRL JUN CH (Mr D & Mrs H Nevin & Lund) |
| Baby Puppy Bitch | 1 | KINNEGANS WAVES AND ECHOES (Mrs. B. Madge) |
| Junior Bitch | 1 | ÀLAINNDANES BELLE OF MY HEART (Ms J Doyle) |
| Intermediate Bitch | 1 | KINNEGANS DELILAH'S SPARKLING STAR (Mrs S Duffy) |
| Open Bitch | 1 | SANTANNA CRISTAL BRUT (Mrs Fennelly Mcgrath) |
| Open Bitch | 2 | GEORDIEONE MAISIES PRIDE SH.CM (Mrs V Young) |
| Champion Bitch | 1 | CH ÁLAINNDANES SWEET CHILDS COMMAND DECISION ( JUN CH, CW 16 ) (Ms J Doyle) |
| | |
| --- | --- |
| Award | Dog |
| Green Star Dog | NL, DK CH LEEVINDANE LEAD ME ON MR COLE (JUN CH) (Mrs M & Mr D Leeper Nevin) |
| Green Star Dog/Bitch | NL, DK CH LEEVINDANE LEAD ME ON MR COLE (JUN CH) (Mrs M & Mr D Leeper Nevin) |
| Res Green Star | CLANSMAN VON TIR NA NOGH OF RANALDANE (DEU GB) (Mrs J MacDonald) |
| Res Green Star Dog | CLANSMAN VON TIR NA NOGH OF RANALDANE (DEU GB) (Mrs J MacDonald) |
| Best Of Breed | NL, DK CH LEEVINDANE LEAD ME ON MR COLE (JUN CH) (Mrs M & Mr D Leeper Nevin) |
| Reserve Best Of Breed | RAVENDANE SWEET TALKER JW (Mrs S Akinosho) |
| | | |
| --- | --- | --- |
| Class | Placing | Dog |
| Baby Puppy Dog | 1 | PINZA'S BLACK SOLOIST PINZA'S BLACK SOLOIST (Margaret Kearney) |
| Junior Dog | 1 | TAMZDANE THAT'S MY JAM (Miss T & Mrs L Pocock) |
| Junior Dog | 2 | DEVENISH STEP RIGHT UP (Ms W Dunn) |
| Open Dog | 1 | CLANSMAN VON TIR NA NOGH OF RANALDANE (DEU GB) (Mrs J MacDonald) |
| Open Dog | 2 | STORMDANCE DOBRYNIA NIKITICH (Ms Lorna McNamara) |
| Champion Dog | 1 | NL, DK CH LEEVINDANE LEAD ME ON MR COLE (JUN CH) (Mrs M & Mr D Leeper Nevin) |
| Puppy Bitch (Int) | 1 | MADRA MAGIC PERFECTION (Anne-Marie Mc Causland) |
| Junior Bitch | 1 | MADRA MAGIC CHARLIES GIRL (Mr. & Mrs R.G. O' Sullivan) |
| Junior Bitch | 2 | DANETASTIC HOLLY (Mrs B Brown) |
| Junior Bitch | 3 | MADRA MAGIC LADY TINA (Anne-Marie Mc Causland) |
| Junior Bitch | 4 | DEVENISH KEEP THE FAITH (Ms W Dunn) |
| Open Bitch | 1 | RAVENDANE SWEET TALKER JW (Mrs S Akinosho) |
| Open Bitch | 2 | RAVENDANE WIZADORA (Ms T Somers) |
| Open Bitch | 3 | YANDAMAR FLYGHTY MAGICAL (Dr. Neil & Miss Margaret & John & Mary Walsh O'Sullivan, Walsh) |
| Open Bitch | 4 | TAMZDANE HOLY CANNOLI IT'S SPRINGDANE JUN CH (& Woods Mr K Collins Mrs S & Miss C) |
| | |
| --- | --- |
| Award | Dog |
| Green Star Dog | LEEVINDANE IRISH HARVEY BLUE WALLBANGER (Mrs M & Mr D Leeper Nevin) |
| Green Star Bitch | MY LADY OF AONTROIM (GB) (C.J.W.16.) (IR.JR.CH.16.) (Miss M.E. Little) |
| CACIB Bitch | MY LADY OF AONTROIM (GB) (C.J.W.16.) (IR.JR.CH.16.) (Miss M.E. Little) |
| Best Of Breed | MY LADY OF AONTROIM (GB) (C.J.W.16.) (IR.JR.CH.16.) (Miss M.E. Little) |
| Reserve Best Of Breed | LEEVINDANE IRISH HARVEY BLUE WALLBANGER (Mrs M & Mr D Leeper Nevin) |
| | | |
| --- | --- | --- |
| Class | Placing | Dog |
| Puppy Dog (Int) | 1 | RAVENDANE ROCK OR BUST (Miss J R Walton) |
| Intermediate Dog | 1 | LEEVINDANE IRISH HARVEY BLUE WALLBANGER (Mrs M & Mr D Leeper Nevin) |
| Intermediate Bitch | 1 | MY LADY OF AONTROIM (GB) (C.J.W.16.) (IR.JR.CH.16.) (Miss M.E. Little) |